Siân Fitzgerald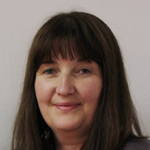 Siân Fitzgerald is the Community Arts Development Officer for Denbighshire County Council and currently sits on the North Wales Arts, Health and Well-being Steering Committee.
Managing Denbighshire County Council's Arts Service, Siân works to promote, support and develop arts activity within the county and strategically across North Wales via regional collaborations such as Criw Celf (the pan Wales project for more able and talented young artists) and Edau – the North Wales Arts and Education Network (one of the four regional networks that form part of the Create Learning through the Arts Framework) of which Siân is Vice Chair. Siân is also the North East Wales representative for Engage Cymru.
The Arts Service work with a wide range of partners from public services to third sector organisations, voluntary groups and freelance creative practitioners across fields such as health and wellbeing, education and regeneration. The Arts Service support the priorities as set out in the Well-being of Future Generations (Wales) Act 2015. Through strategic collaboration and coproducing the Arts Service endeavors to pool expertise and resources and build sustainable pathways for those people least likely to engage in the arts and the opportunities for improved health and wellbeing that such engagement can bring.
Following a pilot project with Engage Cymru, Sian developed a visual arts project for people living with dementia and their carers called Lost in Art. Working closely with the Dementia Services Development Centre at Bangor University, the Arts Service was one of three delivery partners (and the only one in Wales) that formed part of the Dementia and Imagination research project www.dementiaandimagination.org.uk. As part of the dissemination of the research findings the Arts Service have been involved in artists training events, the Imagination Café UK tour, the Utopia Festival in Somerset House in 2017, Wellcome Trust Dementia and Imagination Conference as well as the Centre for Ageing and Dementia Research conference in Cardiff in 2018.
Lost in Art won the Hearts for the Arts Best Local Authority Project for Encouraging Community Cohesion in 2018. Also in 2018, artist Jude Wood, won a Marsh Award for excellence in gallery education for her work on Arts Together – a project created by the Arts Service and funded by Betsi Cadwaladr University Health Board's Arts in Health and Wellbeing Creative Well to support families with young children identified by Family Link Workers.
The Arts Council of Wales' publication 'Arts and Health in Wales – A Mapping study of current activity' published in January 2918 says: "Denbighshire County Council's Arts Service has built up a particularly comprehensive and strong offer around arts and health through its community arts programme which aims to build community cohesion, independence and resilience. It registered am impressive portfolio of 18 live projects through the survey including arts interventions with the elderly and young people as well as wide-ranging partnership projects and social prescribing initiatives."
Siân's early career was as a radio, television and film producer. A published short story writer she was also the founding editor of Lingo! magazine for Welsh Learners. Siân spent time working in Ireland at the Cork Opera House before returning to Wales to work in community arts with particular interest in arts in health work and engaging with hard to reach groups. Sian is delighted to be supporting WAHWN's steering group and the recent exciting developments in the sector.
https://engage.org/marsh2018#jude (Marsh Award film – Jude Wood for Arts Together)
https://www.facebook.com/denbighshirecountycouncil (go to previous Videos section to access film about Lost in Art winning Heart for the Arts Award)
https://vimeo.com/210999162 (Lost in Art film - Judith's Story)
https://vimeo.com/211008159 (Lost in Art film – full version)
Contact: sian.fitzgerald@denbighshire.gov.uk
Follow: @Celf_DCC_Arts