Prue Thimbleby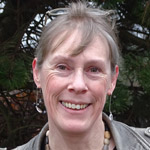 Prue Thimbleby is a willow artist and digital story facilitator. She has over 20 years of experience in delivering and managing participatory Arts projects.
Prue trained as a nurse and midwife, and then began to run Arts projects. In 1995 she did a BA in Arts Practice in the Community at Middlesex University, and then in 2005 she moved to Wales and did an MA in Community Storytelling at the University of South Wales.
In 2012 she was appointed as Art Co-ordinator for ABMU Health Board.
Over the last six years she has built up an Arts team and an extensive programme of Arts in Health projects for ABMU Health Board. Projects range from creating digital patient stories which catalyse service improvement, to capital planning projects which involve patients and local schools, to dance projects which benefit Parkinson's patients and reduce falls for older people.
She is passionate about how the Arts can help deliver the Health Board's objectives and enhance patient experience.
Prue's previous Arts projects have included leading large Arts regeneration projects in England and Wales, being Artistic Director for one of the 2012 Cultural Olympiad projects and convening the 1st Storytelling for Health International Conference in 2017.