Liam Evans-Ford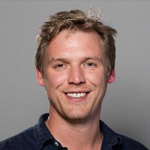 Theatr Clwyd is the largest producing theatre in Wales. Over the last two years they have produced 23 productions – with over 700,000 people having watched their produced and presented work across the UK. The company employs over 500 people each year including core, casual and freelance workers.
Before moving to Clwyd Liam worked as 2015 project Associate for York Theatre Royal – leading on business continuity planning and delivery during the £6 million re-development of their building. He became York Theatre Royal's Associate Producer in October 2015.
Liam moved to Yorkshire following the offer to produce on The York Mystery Plays 2012 production, went onto produce Blood + Chocolate for Pilot Theatre, Slung Low and York Theatre Royal and then took up post as Interim General Manager for Sheffield Crucible Theatres.
Liam co-founded Sprite Productions, which produced 10 years of Site-Specific Shakespeare at Ripley Castle. He was also the first Producer of The Factory and produced their work at The Globe, The Hampstead Theatre, The Rose, at music festivals, bars and underground tunnels, around the UK and into Europe as well as for BBC Radio 4.
Before moving into producing Liam trained at Bristol Old Vic Theatre School and went onto appear at theatres across the UK including The Stephen Joseph Theatre, York Theatre Royal, The Globe and West Yorkshire Playhouse. Liam has taken leads both for The Royal Shakespeare Company and in the West End as well as appearing on television shows on Channel 4, BBC 1 and 2, ITV and HBO. He has also enjoyed a few adventures into the world of Feature Films.
Liam currently sits on the North Wales Arts, Health and Well-being Steering Committee and is a trustee for Tutti Frutti Theatre Company and Creu Cymru.