Justine Wheatley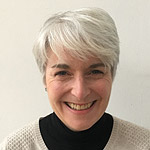 Justine Wheatley is Chief Executive of Peak, an arts organisation that works creatively with professional artists and rural communities, responding to its Black Mountains environment. Its' artist projects offer meaningful participation in high quality arts and culture, accessible to all, but particularly to those with least opportunity. Peak's location in the protected landscape of the Brecon Beacons National Park, inspires its artistic programme, which mainly focuses on visual and applied arts, digital media and literature and creative writing.
Justine is a cultural historian, and Chartered Accountant, who has worked in arts management for nearly 20 years. She spearheaded the development of Peak's programme of artist-led participatory arts and health projects in South East and Mid Wales. Since 2018, Peak has focused on projects for disadvantaged children and young people, particularly those with psychological and behavioural difficulties, supported by local and national funders including BBC Children in Need, People's Health Trust and the Henry Smith Charity
Peak was established as a charity in 1992 under its original name, Arts Alive.