Heather Parnell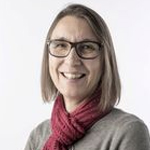 With a deep rooted belief in access to, and benefits of arts and creativity for all, Heather is also passionate about the power of the environment to enhance wellbeing. This drives the many strands of her professional life.
Heather's engagement in the field of Arts and Health is longstanding, consistently 'In Residence' since 1990, initially with Llandough Hospital NHS Trust, followed by Gwent Healthcare NHS Trust, arriving at Cwm Taf Health Board in 2002. Within Cwm Taf, her role has evolved, extending from engagement in the making of art in the environment, to commissioning artworks, developing strategy and coordinating exhibition and performance programmes. In 2008, Heather became lecturer on MA Arts, Health and Wellbeing at the University of South Wales and in 2016, was appointed Capital Arts Manager for ABMU Health Board. In this role, Heather commissions artworks as part of Capital building schemes.
As a practicing visual artist, Heather has exhibited widely in Britain and abroad. Since 1999 in the field of public art, she has worked on many regeneration schemes in Wales and England, including several new hospitals.