Esyllt George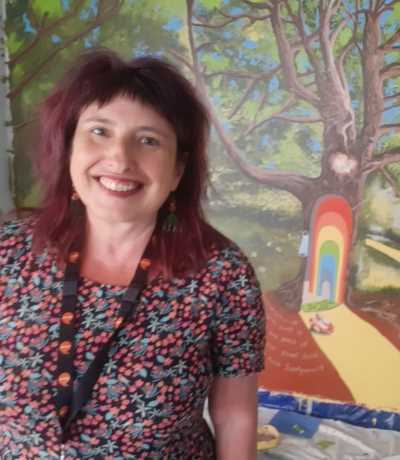 Esyllt is an Arts and Health Coordinator working for Cwm Taf Morgannwg University Health Board. She also works as a freelance Drama Therapist, Relational Artist, and Creative Communities Facilitator.
Growing up in North Wales, Esyllt became interested from an early age in the capacity of the arts and creativity to transform wellbeing and improve mental health. Throughout her life, she has studied and gained qualifications in a range of subjects linked to arts and wellbeing. She recently completed a practice based MA in Death and Visual Cultures, researching the potential of performative expression as a healing tool in relation to loss and bereavement, while creatively accepting death as an inevitable part of life.
Esyllt finds her work as an Arts and Health Coordinator to be extremely fulfilling. Her work is a continuous source of inspiration in her life. She likes forming partnerships with a diverse team of people, setting up creative projects across Cwm Taf Morgannwg. She is currently taking a keen interest in developing creative social prescribing projects, linking health care services and community across Cwm Taf Morgannwg.