Claire Cressey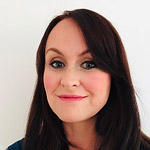 Claire Cressey, Director, Live Music Now Wales:
Claire has worked in the arts and charity sectors for over 20 years specialising in bringing outstanding live music opportunities to community audiences and socially excluded groups of all ages.
She has led the work of LMN across every one of the 22 counties in Wales for the past four years, doubling the output of concerts during this time to well over 500 nationally. Live Music Now (LMN) is a national charity, created by Yehudi Menuhin in 1977, and the foremost musicians development charity in the UK, training exceptional early career musicians in all genres to provide high-quality music experiences for people with limited access to the arts, due to disability, illness or social disadvantage. Participants benefit from the amazing therapeutic, social and emotional benefits of engaging with live music – an experience that transforms and enriches lives. LMN's work focuses on two main areas:
Health & Wellbeing: particularly older people, including those living with dementia and mental illness
Children & Young people in disadvantage, especially Special Educational Needs and Disability
Previously Claire spent 7 years as Community Producer for Welsh National Opera where she devised and delivered 'Street Songs', an innovative programme of song writing projects and performances across the South Wales Valleys and Wrexham county including 'Nine Stories High', a live/filmed monthly soap opera for the streets of Wrexham, and 'Singing Doctors', a year-long residency at Wrexham Maelor Hospital. Claire also produced the world premiere of Errollyn Wallen's Carbon 12: A Choral Symphony with over 250 community and professional performers and the community oratoria 'The Journey' by Alan Harris (Librettist) and Richard Barnard (Composer).
As Assistant Director for Artswork, the national youth arts development agency, Claire established and led on the development and delivery of the first English national Youth Arts Network (ENYAN) as well as Artsplan - the UK leader in youth arts professional development. She also founded Wave Project Cymru in South Wales- a not-for profit using surfing to benefit the lives of disadvantaged children and young people living with or at risk of mental and emotional health issues.