Chris Ryan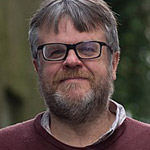 CHRIS RYAN has been Director of Arts Care Gofal Celf (ACGC) for the last 18 years. ACGC was founded in 1987 and delivers a range of arts, health and wellbeing programmes, primarily across West Wales. It has been delivering its mental health programme, currently funded by Hywel Dda University Health Board and Carmarthenshire County Council for 30 years. ACGC is a member of ACW Arts Portfolio Wales and has a unique register of over 100 freelance practitioners experienced in working in the health, social care and community sectors.
Chris has spent most of his working life in the voluntary sector, previously having worked in community development in Carmarthenshire and for two large national charities. This work has included developing employment services for adults with learning disabilities and training employment staff in job coaching across the UK.
A music graduate, Chris continues to perform professionally and teach regularly in a variety of musical idioms including work across the UK and internationally.