Alex Bowen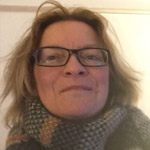 Alex Bowen is a Director of Breathe Creative, http://breathecreative.co.uk , a small, experienced and dedicated team of professionals based in Wales with a wealth of experience in artistic, community, educational, counselling and clinical settings. Breathe Creative offers person centred creativity for wellbeing using arts, mindfulness and relaxation in training courses, projects, mentoring, consultancy and research.
Alex has been involved with Community Arts and Arts for Health/ Wellbeing for over 25 years. She worked in Yorkshire in women's film co-operatives and set up Lighthouse Video Productions which specialised in counselling and drama therapy training films. She then moved to Wales after the miners' strikes to work with Valley and Vale Community Arts where she helped local communities make meaning in their lives using community arts to express how they were feeling and document the changes that were taking place in their communities and lives.
Alex then worked as CEO of Valley and Vale Community Arts for over a decade, passionately campaigning for arts for health and developing a wide range of creativity for wellbeing and arts on prescription programmes across South Wales and beyond.